Since everyone keeps requesting a list of drops, I've gone through the forums and compiled a list of drops that people have uploaded so far. Please feel free to let me know if I've missed any. Big thanks and congratulations to the servers/clans that have killed him so far, and to the people that have shared their drops with the community. Enjoy
Hrungnir always drops three items: 1 bracelet, 1 ring, and 1 helmet or 1 skull weapon.

- The bracelets add bonuses to three stats, and do not bind on equip. Although each bracelet is meant for a certain class because of the bonuses to damage abilities, they are not specifically class bound.

- Rings come in either damage or protection varieties. The damage rings only add 60 to 90 damage for one damage type (heat/cold/magic/poison). The protection rings add a bonus to armor, a damage resist, and an avoidance type.

These rings all bind on equip.



- Helmets add 6 to 10 skill points to the skill listed in the helm's description, and also 100 to 200 points to one stat. They also add a direct bonus to a skill as well. Helms are designed to be equipped by a specific class, but are not specifically class bound. Each class has a variety of three skills that the helm could possibly boost (see table below for skill list). Helms are not bind on equip.

- Skulls are weapons that are available to only mages and druids. Their biggest features are a bonus to energy (500/750/1000), a bonus to a skill (9/12/15), and a reduction in casting time of that skill (20%/25%/30%). Skulls do not bind on equip.

Hrungnir Bracelet Overview:
Example:
Hrungnir Damage Ring Overview:
Exapmple: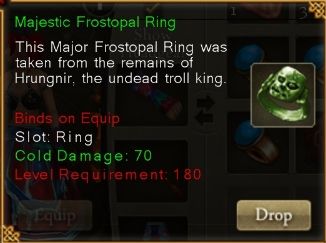 Hrungnir Protection Ring Overview:
Example:
Hrungnir Skull Overview:
Example:
Hrungnir Helm Overview:
Example: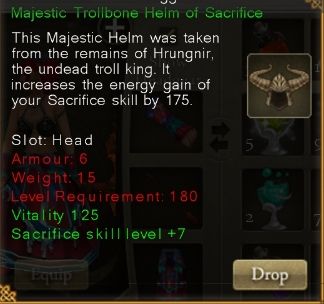 Link to spreadsheet:
http://sdrv.ms/16Do8tD