Hi All,
With the Dhiothu event coming up, I figured I'd take the time to write up our Dhiothu strategy for the servers that struggle. For some background, pre-patch on the Root Strategy we had a record kill time of about 9:30, we've never relied on a strategy that requires more than 27 toons, and we always kill on the day of spawn with approximately 25. Usually the kills are quite relaxed and more of a laugh and joke than something to stress about these days.
Firstly, communication is imperative. On our first few kills back in September, we didn't allow people to attend if they were unable to join the voice call that we set up on LINE every raid. There's a lot going on, people not paying attention and/or not listening to the calls can and will cause the raid to wipe. I suggest all clans, especially if you haven't killed before, to try and ensure that everyone is able to communicate, last thing you want to do is be typing during bash time or while autoing so you end up healing. We've relaxed this rule over time as people have become more experienced.
Secondly, every raid member needs to understand that their contribution to the raid is imperative to the kill. It's not like BT or Gelebron, if you're stood there and not contributing at best you're taking up a spot that someone else can use, at worse you're actually impeding the kill by healing the boss. Don't be AFK, it's bad.
Strategy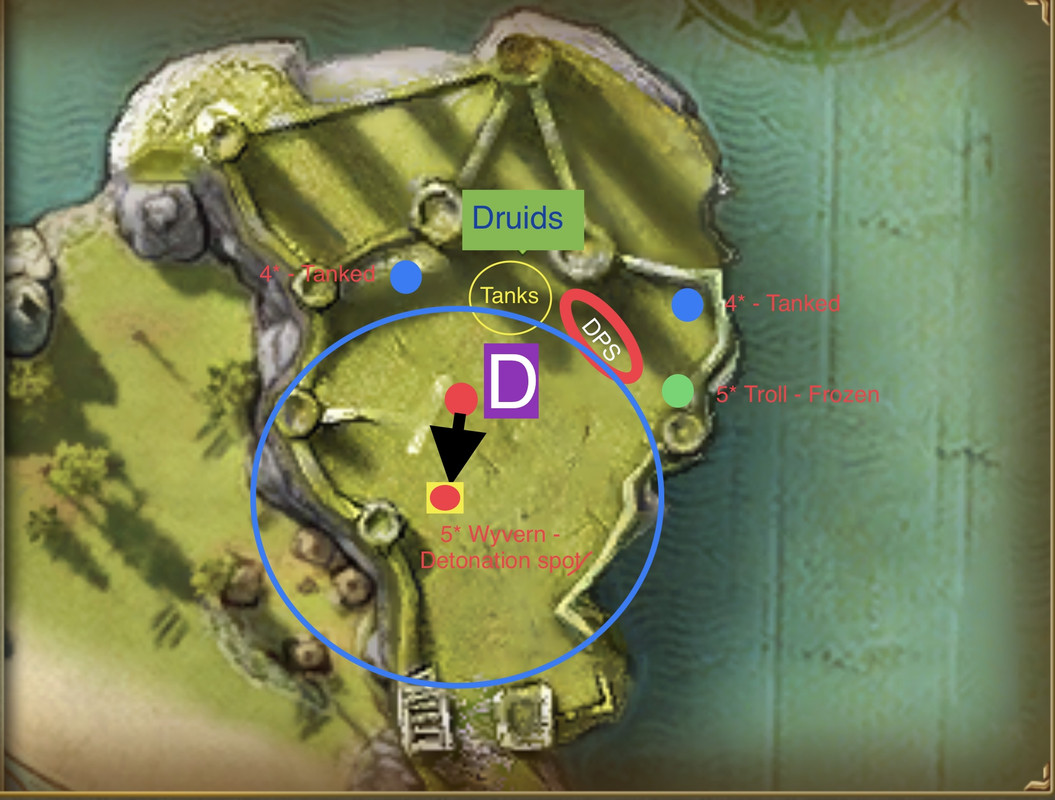 5*Adds - "The Nukes"
These are a real pain, until recently you could avoid them with roots. As that strategy is no longer viable, the best way we found is a combination of Freezing/ Suicide tanking.
To do this, you need the troll set to the SLASH damage troll, what we do is use a tank to pull the 5* to the Far East of the boss, you can get it far enough so that you can expose / freeze it without being in range of the boss. This is very similar to the Blaze strat at BT. When it's in position use 3 mages with freeze cool down skulls to permanently freeze the troll. Use an expose on the troll to ensure freeze doesn't miss.
With the wyvern, we tried killing it once, it was a stressful mess. One person getting orbed and healing it before detonation can wipe the whole raid. You should just suicide tank it, have a tank, drag it directly south-south/east. Similarly, try and run around and push it back further to create a larger "safe zone".
4* Adds
Pretty simple, just tank these. You don't need a Druid, just one tank should do it. On the east side you want to hold it as far north east as possible, away from the freezes / DPS.
On the west side, by the wyvern, you shouldn't have many toons over there with this strat, you can use an individual tank or just ignore, it should only be attacking the suicide tank over there anyway.
Dhiothu
The boss has many skills, the main thing you need to look out for are the heals every 2 minutes. The first heal is after a minute, basically the heals are every odd minute, 1,3,5,7 etc...
The heal is for 150K health, it heals all adds and the boss and creates a magic cloak on everything that lasts 30 seconds. In addition to the orb healing you'll inevitably incur, this heal will drastically slow down kill times. You need all mages to carry freeze and all tanks to ensure they bash. Freeze needs to be ready before the heal, the window is very small, not much longer than the cast time of freeze itself. With bash there's a little more leniency due to the shorter cast time, but obviously you need to be very close to the boss.
The boss also randomly fires off Magic tick damage to anyone in the area, regardless if they've engaged the boss or not.
It will also randomly throw out bashes, which can be a real pain around the heals, can cause you to become orbed.
The Orbs
These are what people struggle with the most. There is always 1 orb, an additional orb spawns at 75% health on Dhiothu, and another at 50% bringing the total to 3 for the latter half of the raid. Most of the time, it bugs out and there's 4-5 orbs up at any time.
The orbs patterns are fixed. Each spawn will go around its path twice. If you are hit and decide to not move, just waiting out the duration of the negative energy the same orb will hit you again. If you are hit again with 10 seconds to go, the negative energy will be refreshed for 20 seconds, although the timer will not adjust meaning you shouldn't trust the timer for as to whether the negative energy is gone, just look for the icon at the top.
When a player is hit by an orb, the damage they output and healing they receive is multiplied by -3. This means that if you hit for 10k, if you are hit with an orb right before you skills casts you'll heal the boss for 30K.
For example, if a ranger is AFK and hits for the entire duration of negative energy, it will take them 60 seconds to make up for the 20 seconds that they weren't paying attention.
Negative energy doesn't affect a healer, however anyone with negative energy will be negatively affected by heals
- this means that even if your Druid is on negative they can still heal the tank as long as they are not.
Dealing damage
The boss has much lower magical resistance than anything else. All rangers should use magic damage quivers, replace divine rings with magic damage rings. You
should not
even attempt to use a rogue or warrior at Dhiothu, the orb frequency in the centre is much higher than on the perimeters. Even with a basic knowledge of areas of cricles it should be clear why orbs that take up most of the space of the melee range make melee DPS entirely unviable. Even
if
aren't healing more than you're doing in DPS, there's no way it would beat a ranged DPS.
The best damage on Dhiothu is easily and by far DPS druids. Even poorly geared DPS druids will outclass any ranger or mage on Dhiothu. This is due to the exponential increase in damage with lower resistances, a topic for another time so you should just take my word for it.
Proper luring is essential. Your geared best fire and ice mages need to run Fire/ice and Magic/Ice lure respectively, there isn't really an option for these guys to be selfish. I know a lot of these guys can be egotistical but again, slightly lower resistances can lead to massively increased damage - it makes a huge difference.
Support
For those that haven't killed the boss before, you shouldn't negotiate with people:
All rangers need entangle - this reduces the bosses' damage by half. It's the difference between your clan wiping on a rage and a comfortable kill.
All mages need freeze - for the aforementioned Dhiothu heal.
Howling wind needs to be on at all times, ideally by a DPS Druid that will be attacking the boss.
The tank needs the highest possible defence especially, remember that Super Potions stack with Elixirs for massive boosts,
Support druids can stand anywhere, although ideally they want to be stood north to avoid damage.
Everyone needs to contribute, if people let egos get in the way you'll never kill the boss.
This isn't the only strategy, just what we use on Sulis. I hope some of the other servers that kill the boss to contribute to the thread as well.
Any questions please feel free to ask.