Fury, we do not believe it is better as a dicing server. If we did, we would have made it a dicing server. Nobody in Peg wants to be paying 9 million for pures. As Mr said, it's like talking to a brick wall. Please accept other people have different opinions and to those who are actually endgame (not level 190 or whatever like you), and boss for these drops, what you think fundamentally doesn't matter. We aren't the only non dicing server. Therefore we obviously aren't the only ones who think dicing isn't the best way. That argument has been done a thousand times. Plus it's clear what Epownage said is right. Just who are your people exactly LMAO.
You remind me of a Brexiteer, living in ye olde bygone days with rose tinted spectacles. Times change, people move on. If you want a rolling server go elsewhere. Simple. Rare items do have value, just not crappy ones nobody wants or needs.
Anyway, the title of the thread is 'is lugh active' the answer is yes. If you want to complain about the economy then maybe look in the mirror: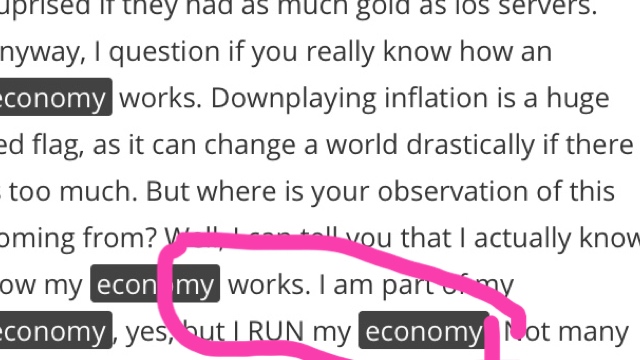 From this very forum, courtesy of Furyion.