Well technically this would be a mount, but since mounts are basically pets you can ride I think this counts lol.
It's one of the most forgotten mobs in the game as they are so far out of the way and there's only like 4-5 of them in existence, but yet they are imo the coolest mobs in the game. I've always wanted to be able to ride one of these things, ever since I first ran into them all those years ago. I'm talking about none other than the fire horses that sit untouched in the lava pits of the OW.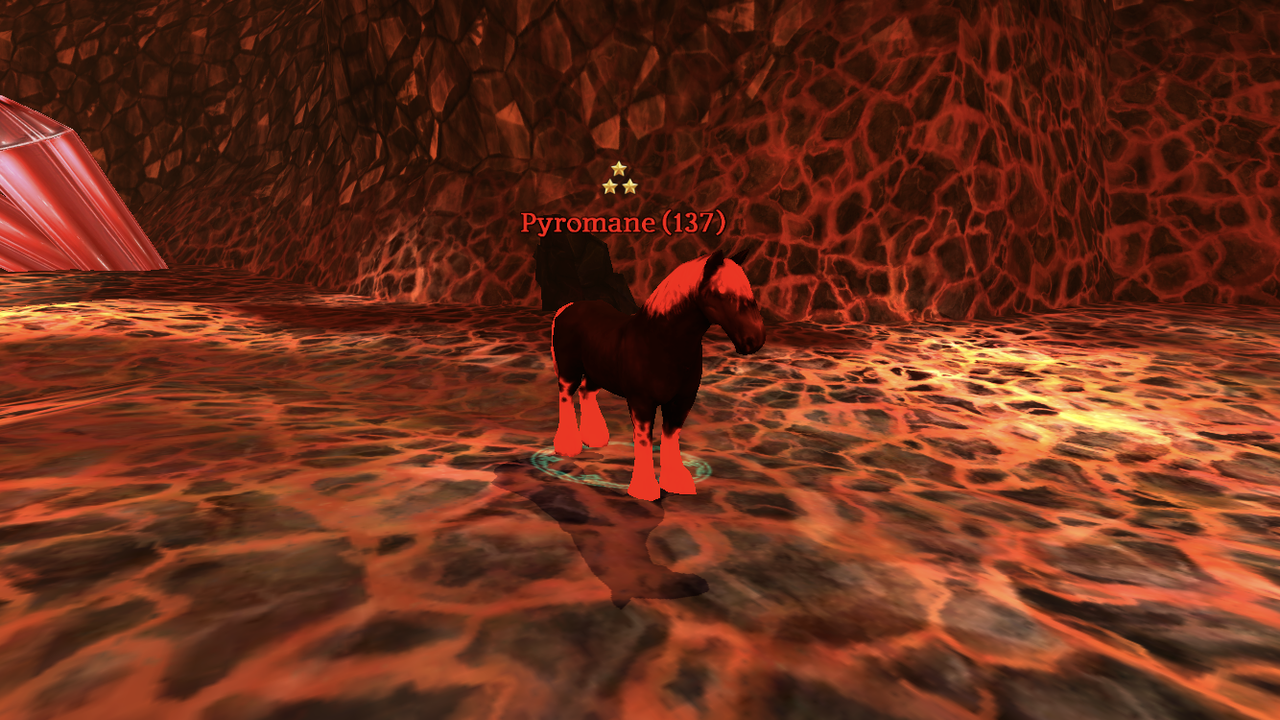 How to obtain
I'd like to move away from the whole token/play fiasco with this mount. Instead I want it to be something anyone can obtain without worrying about gold or buying plat. You must farm these horses in order to get the mount. These horses would have a small chance of dropping an item (ex would be something like a pyro orb), which could then be used to summon in one of these horses. Once you use the item, you would have your very own fire horse.
Upgrades
Since there would be no stupid tokens, things would be a little different when upgrading this mount. As soon as you have obtained the mount you would gain the ability for it just like any other pet/mount. Instead of handing in weird tokens and having your pet/mount magically be upgraded, you would have to upgrade your mount by leveling up the ability. There would also be a level requirement for each upgrade. You can obtain the mount at level 140 (since the mobs are I believe 135-140), and every 10 levels you would be able to upgrade your mount once more given you have the ability maxed for that level. You would need 1500 ability for the first upgrade at 150, 1600 at 160, all the way to 2200 at 220. There would be an upgrade button on the mount description that would become clickable once you have met the requirements for an upgrade
Stats
You will be able to choose the stats when you first obtain the mount to your liking. That way you can have it fit whatever build you are going for. The stats would be 100 of two different stats (100 foc/vit for example), 150 of defense or attack, and then 200 of two different types of evasion. This can only be done when you first get the mount so once you choose your stats there is no going back. The stats would get higher and higher each time you upgrade, going all the way to 220. The mount would start at 80%, and increase by 5% each time it's upgraded. So at 220 your mount will be at 120% speed
Skills
Since this is a fire horse, I think it would be proper if you got a passive fire cloak buff while riding it, doing small but noticeable damage everytime something attacked you. The skill would be a fire stomp skill, which would deal both fire and crushing damage to the selected mob, it would also have a chance at burning the target cause a DoT to take effect for 10 seconds. This mount would also give you the fire walk buff that frozen armor gives you.
Design
I already think the design of these horses are already good enough, but I think it would be awesome if VR added some flame effect or something to them to really give them that wow factor. Like make the hair on the horse fire and make it glow more like the Phoenixs
Description
This ancient breed of horse have long been wandering the lava fields of the other world. Distant relatives of the Kelpies that reside in the swamps, these horses found their way to the lava fields where they adapted and evolved to withstand the intense heat. This mount boosts your speed by (% speed) and gives the skill (skill name) which crushes your opponents with intense force and heat. While riding this mount you are immune to the effects of the lava field and are given a cloak which deals damage to attacking opponents.