Celtic Heroes
The Official Forum for Celtic Heroes, the 3D MMORPG for iOS and Android Devices
Recast is approximately 25 seconds.
Forum: Ranger
Replies: 5
Views: 2354
Sun Dec 16, 2018 8:29 pm
Good morning! I just got the following brace and am curious what ya'll think of using it over a +600 attack gele brace? I have only tested the skill on the 5* gele mobs and it was doing 450-700 damage per cast. https://i.postimg.cc/dVCyKWzL/Screenshot-20181215-030242-Celtic-Heroes.jpg
Forum: Ranger
Replies: 5
Views: 2354
Sat Dec 15, 2018 12:25 pm
Got this dagger today. Wasn't really farming for it as I didn't realize they dropped in 215 room. Just showed up 10-15 min before window and was killing mobs to waste time.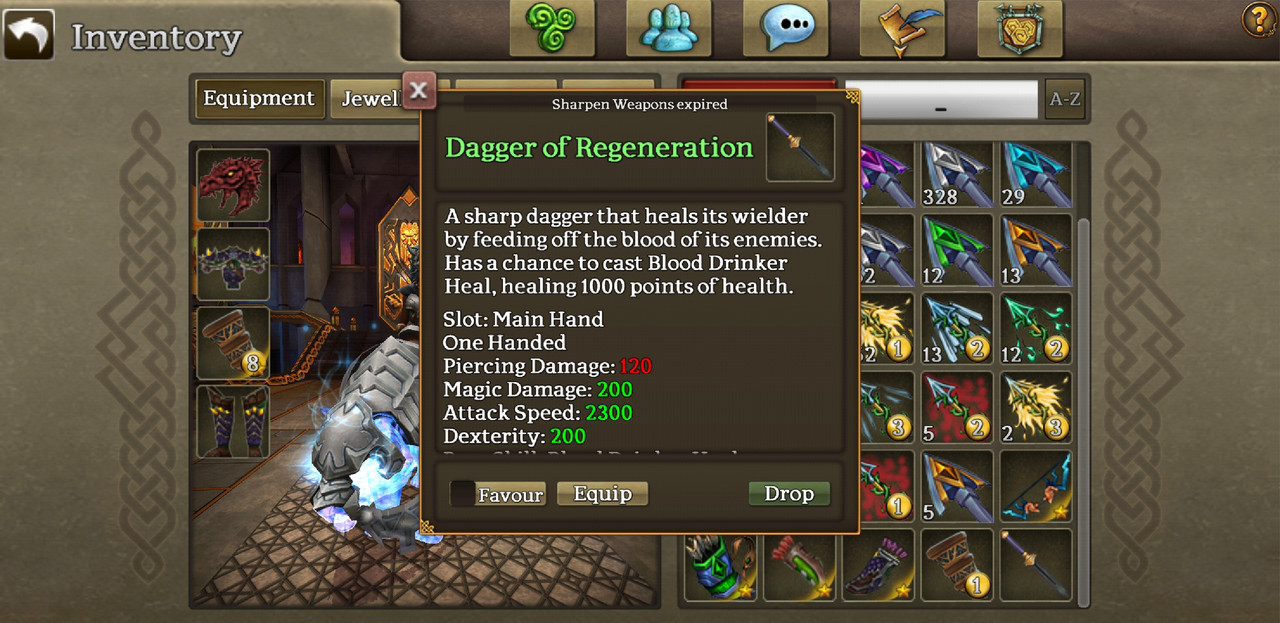 I do bounties daily on at least one toon, sometimes more depending on how I feel. Whichever toon I'm currently spending the time to level is the one I do the bounties on. I have max pet and mount on my characters, so the tokens go towards the fashion! On the fashion note, when will more bounty token...
Does this mean there will be 3 different chests? (Aeon, Fire, Snow)? Snowstorm will replace Firebreath. Awsome, so no chanse to get my tiny dragon to lvl 6. ( Other than that pictures are looking great. Muldar said in a different thread that dragon eggs are permanent in chests, so you can still wor...
I'm not 100% sure on how much benefit I was getting from using the wisdom lix, but I did notice around level 500 mastery if I forgot to relix, I wouldn't get my standard 1 mastery for each proc. I also used it as a way to track the rate I was gaining mastery. Right up until I stopped gaining mastery...
Good day to all my fellow Celtic chefs! What are your thoughts on the cooking mastery ability? I stopped levelling cooking st level 140 with around 90-100 mastery and decided to get my mastery up closer to my cooking level with the thoughts that this would increase my exquisite/perfect proc rate whi...
$600 worth of plat purchased over 2 accounts. 48,000 plat. 1300 chests strictly from the cash purchases. Approximately 700-900 additional chests purchased from the plat dropped from the chests. I also purchased approximately 1300 chests when they first released prior to black Friday sale. No eggs or...
Good for spider boss. There are options that are better overall though which can probably be obtained for less loot.