Ranger Guide
When you choose a class you normally think to yourself:
What skills are there in the game? What do they do? What stats make them better? What build should I go for?
Well, what you waiting for? Read further on and I will explain everything about skills.
Skills & Functions of them:
Light Heal
- A quick heal skill, adding dexterity increases the amount healed by this skill. Mainly used in combat when near low health.
Bandage Wounds
- A slow heal skill, adding vitality increases the amount healed by this skill.
Recuperate
- Regains health, but when in combat this skill does not work, increases amount regenerated with vitality.
Sharp Shot
- Combat skill, fires a long shot that deals a lot of damage, improved with dexterity.
Rapid Shot
- Speeds up shots fired, more you invest into skill points on Rapid Shot the longer the skill lasts.
Steady Aim
- Increases accuracy and damage to all your attacks and lasts 60 seconds, improves with dexterity.
Camouflage
-Reduces the range at which enemies can see the target player. Increasing this skill makes higher level enemies not be able to spot you. Reduces aggro range for 2 minutes.
Bolas
-Slows the movement of an enemy, when you improve this skill the level the enemy is increases.
Barbed Shot
- Leaves a barbed arrows in your enemy, causes
x
amount of damage every 5 seconds, for 15 seconds. Improves with dexterity.
Meditate
- Regains energy, this skill does not work in combat just like Recuperate, increases with focus.
--------------------------------------------------------------------------------------------------------------------------------------------------------
Personally,I would get dexterity the highest, strength the second, and then vitality third and focus last. These skills above are sold for gold at Farcrag Castle (north of the Farcrag Castle Courtyard), when your level increases, you can buy more skills, but those above are the maximum skills you can buy, the last skill which can be bought is Camouflage which is bought for 40 gold.
You can get other skills but they are from quests, they can not be bought from the Ranger Shop in Farcrag.
You can do One's Quest to get all the skills from shop except Steady Aim and Camaflouge.
Here is a picture showing where to buy the skills from: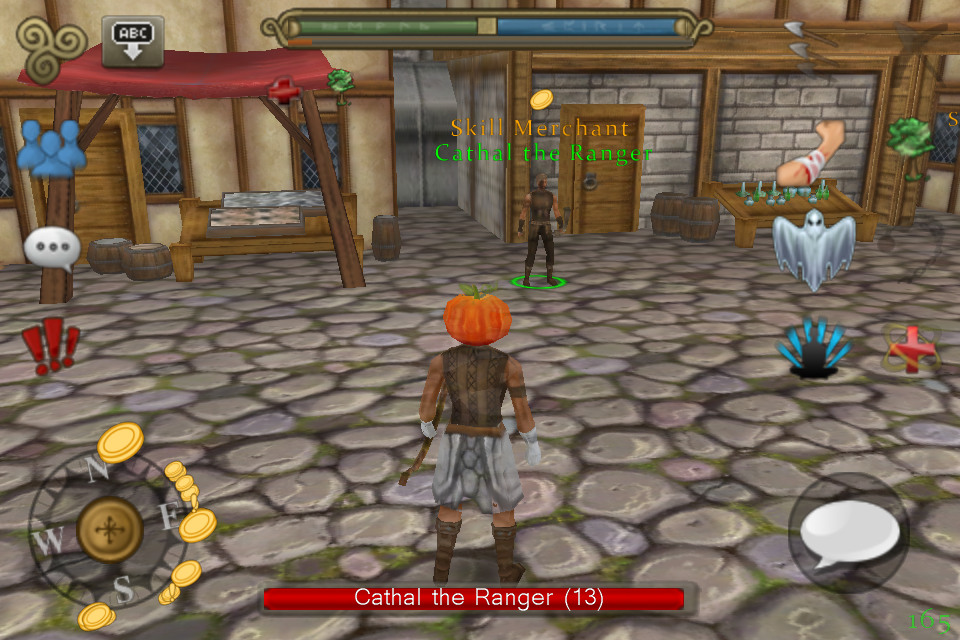 Thank you for reading my guide, feel free to add Umayr in-game, I am in the world "Morrigan". If you see any spelling errors please post them below so I can edit, also if you wish to add more please post below. If you wish to donate gold to me in Morrigan please add me in-game, more guides to come.
Umayr~