Hey all!
Relentless is looking for a few good folks to plus up our ranks this summer.
Click here to apply!
Here's what we need: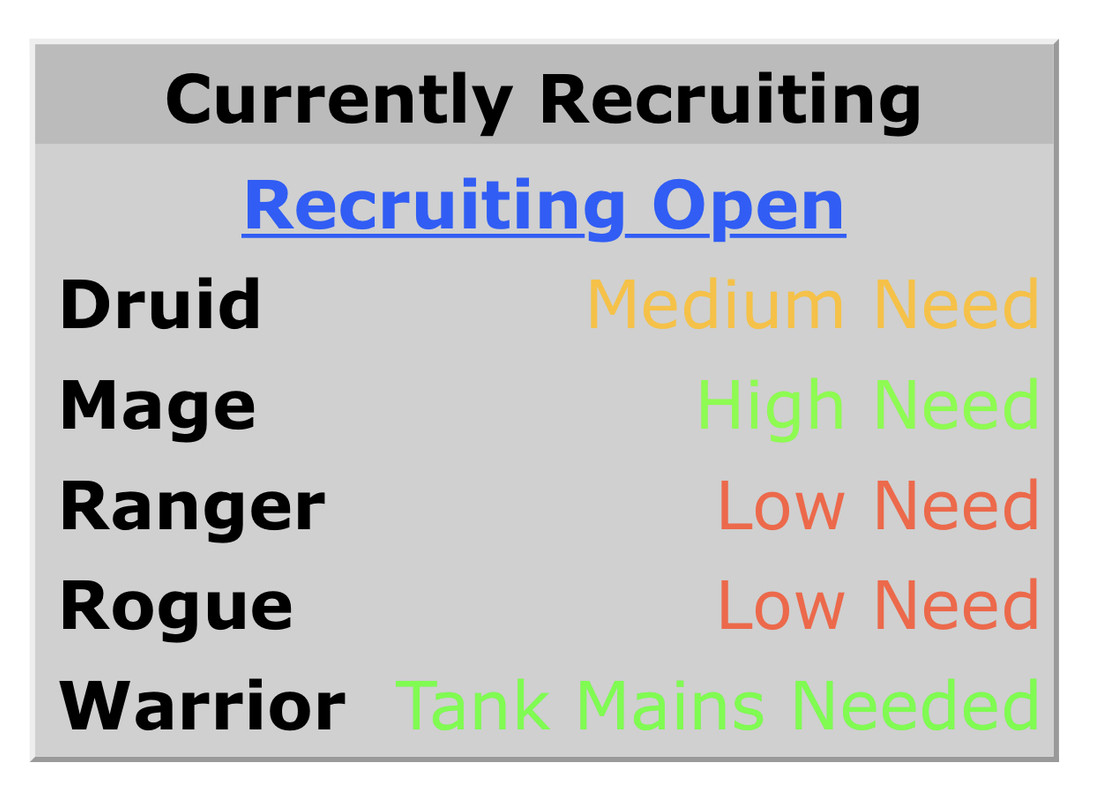 We are not closed to any classes, but know that the competition for loot at the highest levels is high on classes with low need.
How is loot obtained?
We have an organized system of DKP and clan banks. Most gear is purchased on a no limit bidding system.
Leadership council loot is determined by a vote. Weighted categories are: attendance, helpfulness, attitude, and longevity. The following loot is earned this way:
Doch Gul
Anointed Rings
Bloodthorn Seeds
Who leads Relentless?
Relentless is led by a council of generals, chosen by generals. Guardians are nominated by the clan, voted on by all leaders.
Server Transfers
We are interested in players from other servers who level organically. Please let us know if you are looking to transfer. We'd like to learn about you, and there's a good chance you'll receive help from our members along the way to endgame.
How do we communicate?
Primary: Line app
Secondary: Discord
Tertiary: Yell loudly
Age limit?
We do not have an age limit. With that said, we expect a level of respect and etiquette. Joking, memes, and bashing Sniper2k are welcome.
No religion, politics, or divisive topics - and nothing discriminatory to any Nationality, Race, Gender, or Orientation, and you're safe.
About us: Clan Charter
Relentless is a clan on the Gwydion server for Celtic Heroes. With our members spanning the globe, we compete and kill bosses regularly in almost all time-zones. We are a raiding clan with a family impression, and we are currently focused on Corrupted Gardens progression and working on Gwydion's first Dhiothu kill. We strive to be the primary clan on the server that kills the end game raid bosses.
Our goal is to be known as the premier clan amongst the entire Celtic Heroes community. We want to be able to kill the Raid bosses upon spawn. We want all our clan members to be able to enjoy the end game content in an emotionally safe, drama free environment.
Our focus for new members is on personal character and how well you mesh with the clan. It is more important to us that you are a good, helpful person who wants to see the whole clan succeed than how much gear or gold you have.
Current Boss Kill Schedule:
On Spawn: Hrung, Mordris, Necro, Proteus
On Spawn - 4 hours: Gelebron
4-12 hours: Bloodthorn
Dhiothu attempts: We strive for two attempts per week.
A top end snapshot of our roster: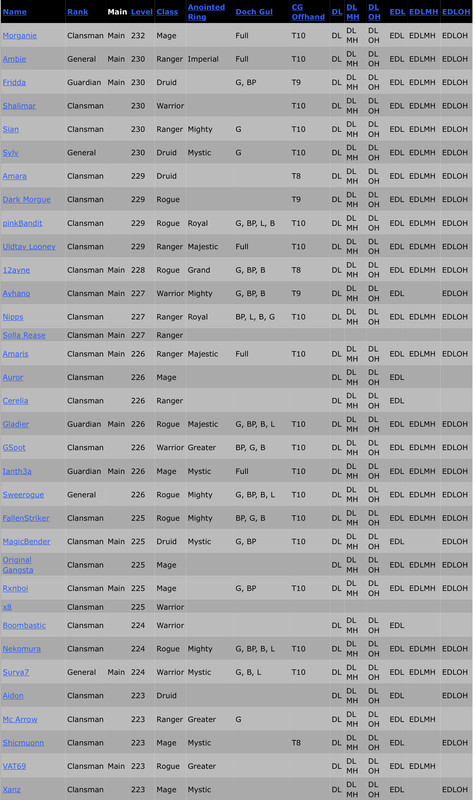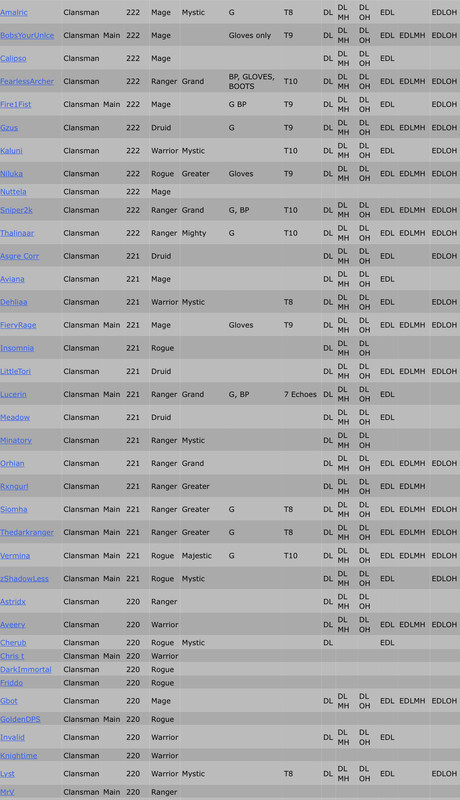 Guaranteed entry can be obtained by donation of a Void tank axe to Surya