Entry by Madara uchiha
from Mabon
Boss name:
Murdar, Crom's dark guardian angel
Boss Background:

Within Rath Parras' chambers there is a formidable foe that has been a loyal servant to crom. His name is murdar, also known as Crom's Dark Guardian Angel.
Murdar was a happy young boy who lived with his mother and father within the walls of Maclir castle. He was the son of Morgana, a woman of great beauty that the gods desired to have as a wife, which created envy between the goddesses. And he was the son of Equilax, the greatest warrior of Dal Riata in that era. Equilax was the commander of the first legion of the maclir army, and King Maclir' favorite warrior.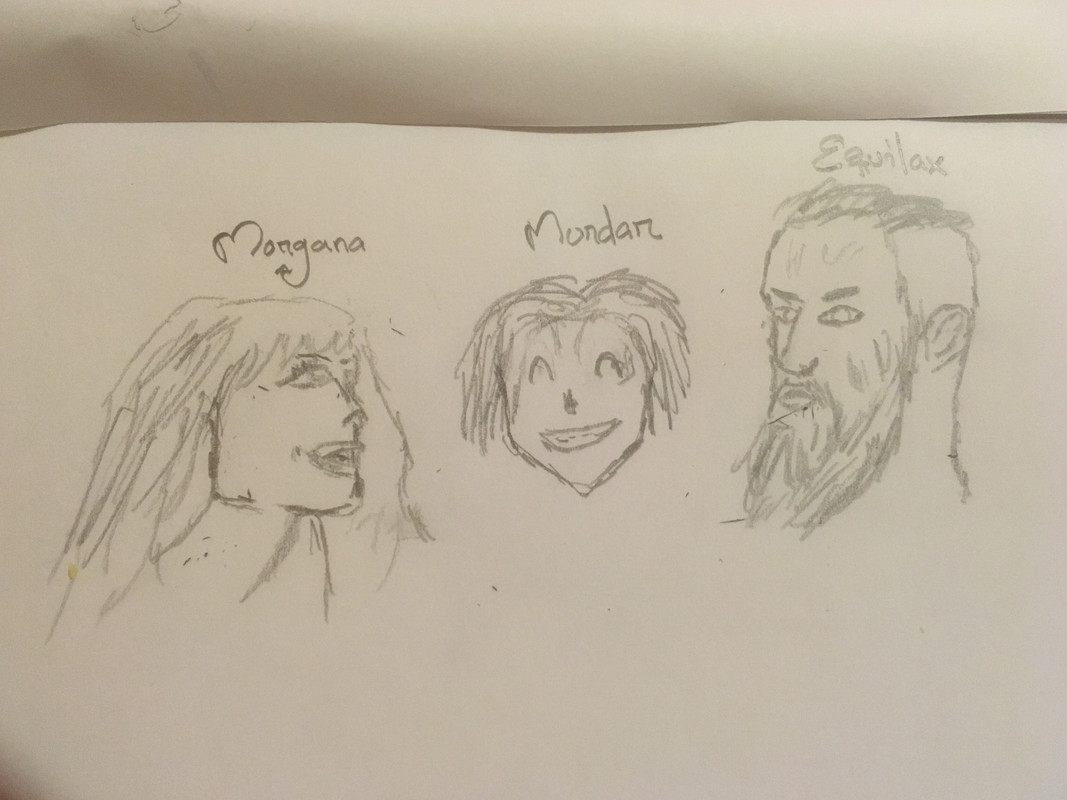 At a young age Murdar was considered a prodigy in the arts of combats and strategy, his favorite weapon was the whip. Many people believe that he would become the greatest warrior of Dal Riata.
However, dark times came to the land of Dal Riata when the connachs and the maclir clan started disputing which eventually led to the first war against the Connachts. The maclir clan was invaded and they started to lose ground in the battle field.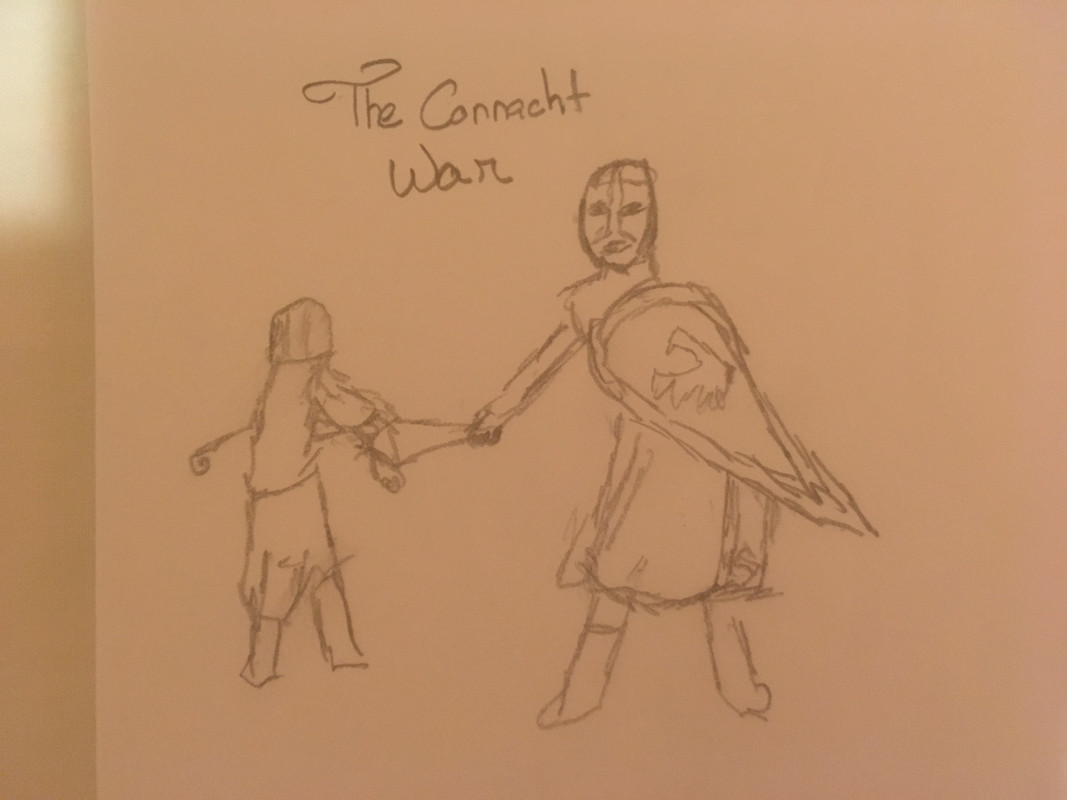 This led to the young king Maclir to make a desperate decission to prevent many casualties and losing the war. He believed that sacrificing the most beautiful women of Dal Riata would bring help from the goddess belenus and the other gods. When Equilax heard this, he quickly took action to protect his family without thinking the negative consequences that this might cause him. He took his son and wife to a small village between the enchanted mountains of stonevale. The young king enraged by the betrayal of his most loyal commander, ordered to punish the commander by removing equilax's eye and throwing him to the pit of the troll king snorris the bone chewer.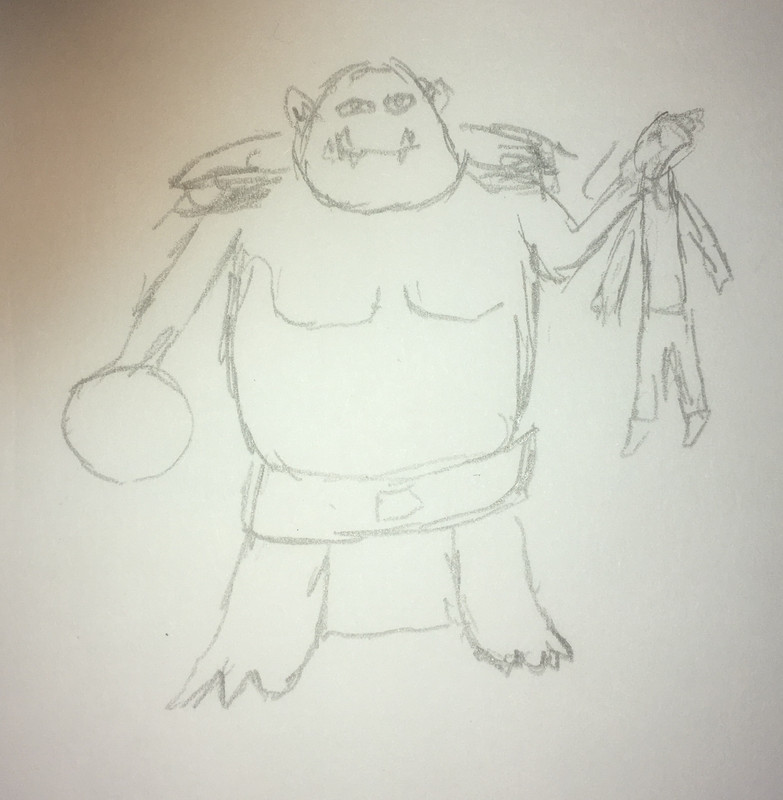 A few days later, the maclir army found Morgana and captured her. Morgana was sacrificed by removing her heart and burning it as a gift to the goddess. The soldiers decided to spare Muldar's life since he was a young boy with not fault at all. The Maclir clan gained the gods favor and were able to defeat the connacths.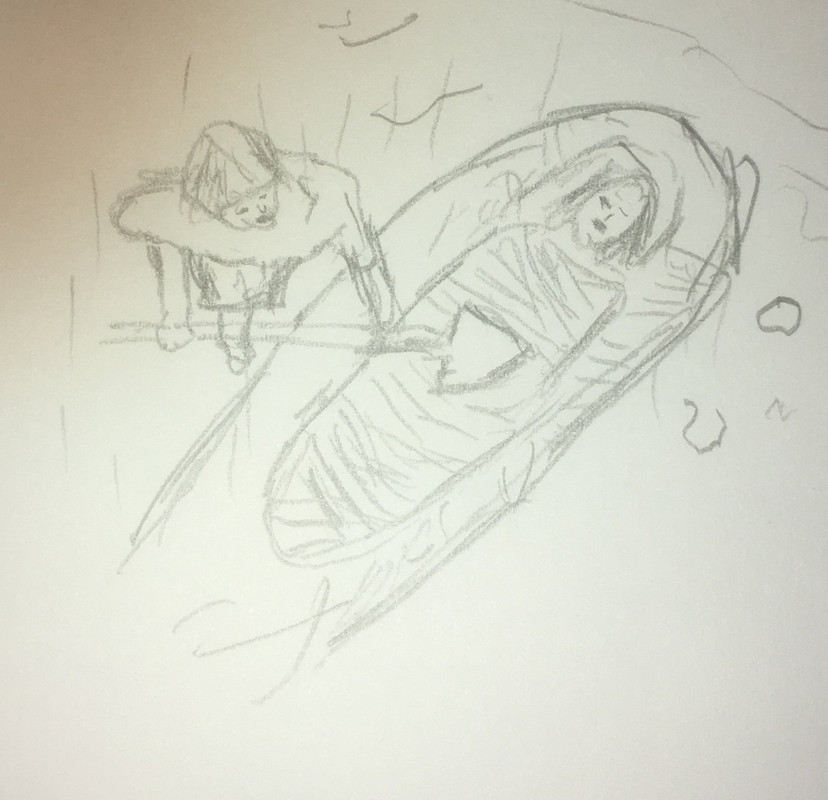 Murdar was left abandoned and his trust and love for the people of Dal Riata faded away. In fact, his heart got filled with pure hatred and this caught Crom's attention. Crom promised him great power that only those with pure hatred can handle, so he could get his revenge against those who harmed his family. All he had to do was promised to be obedient to him. Murdar accepted, and he was raised by crom as his most beloved disciple. Muldar became Crom's right hand and because of this, he got to be known as Crom's Dark Guardian Angel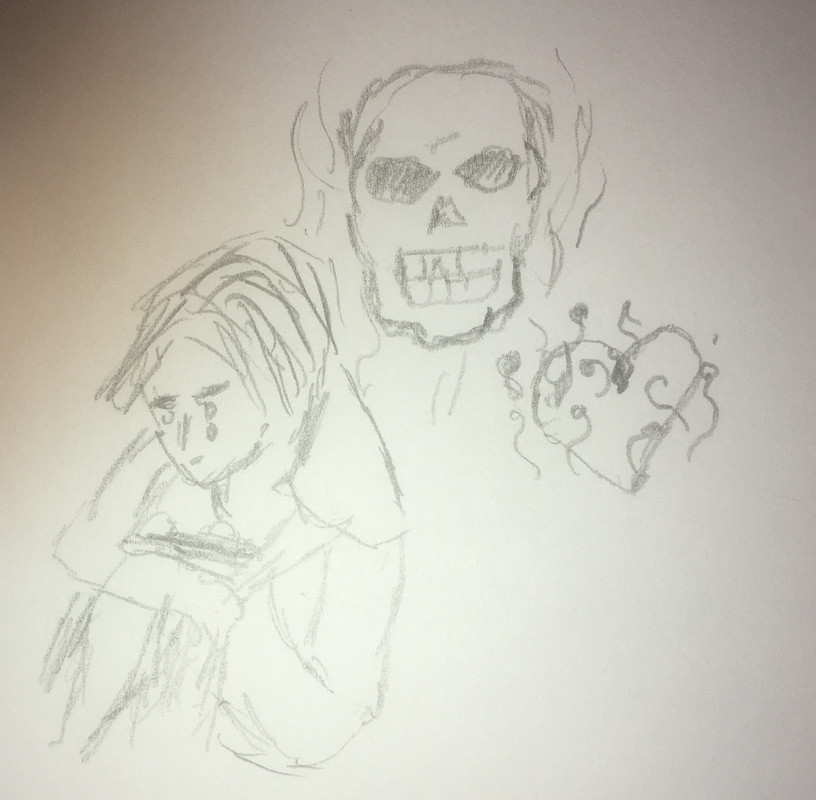 Together, Murdar and Crom caused chaos and destruction across the lands until crom was prisoned.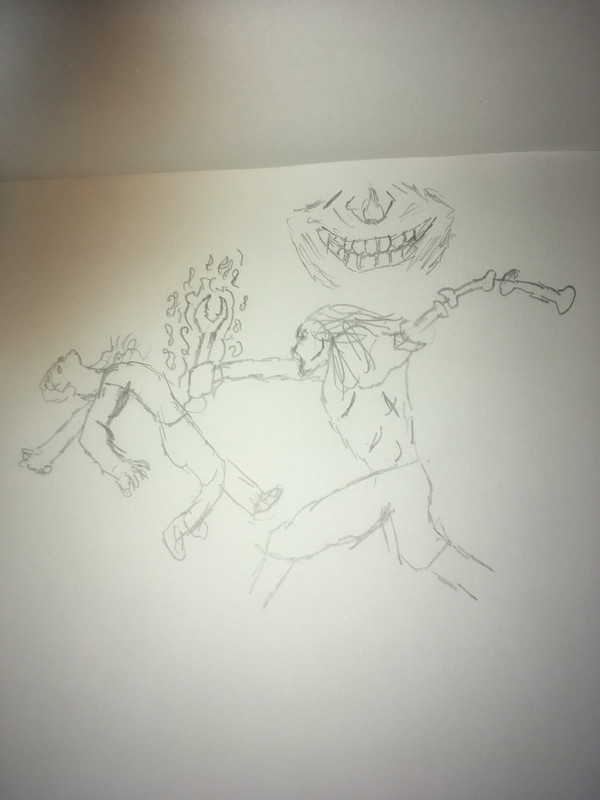 Ever since, Murdar have been in one of the chambers of Rath Parras meditating to create enough evil energy to weaken and destroy the chains that are holding his master.
Will the new wave of heroes prevail in stopping Crom's right hand, Murdar, the Dark Guardian?
Skills:
Dark feather rain:
Drops the speed attack of all the enemies around him within Y meters and causes a DoT for X seconds.
protection of Crom's eye:
Using the shied of the dark truth, Crom's angel protects himself from any damage for Z seconds while making a powerful strike to the foe that it's causing him the most damage.
Whip of horrendous punishment:
With his whip made of human bones, Crom's guardian causes great damage to all his foes
Fallen heroe soul protection:
Using his armor's power, made of human skull from fallen heroes that have been killed by him, murdar protects himself from divine and elemental damage for Y seconds.
Drops:
Murdar drops items (it can be gear or armor) to resist Crom's evil aura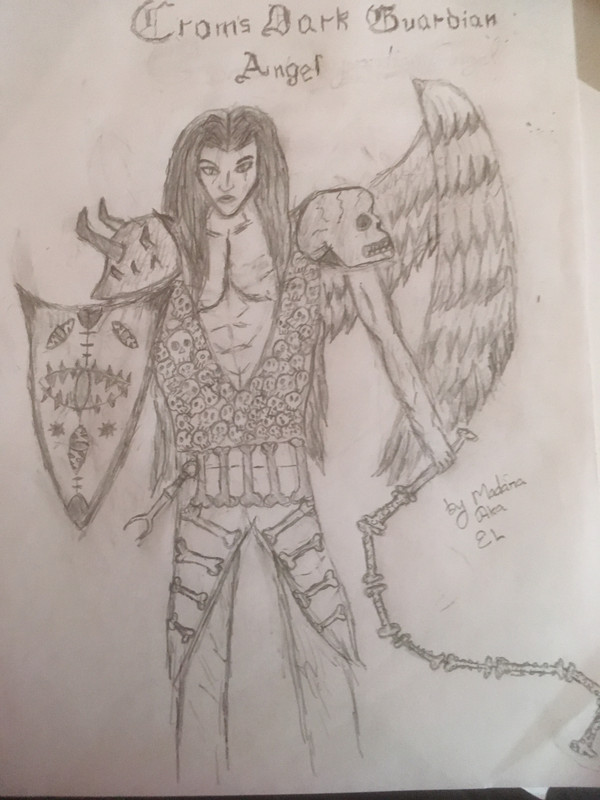 Raged Crom's Dark Guardian Angel
When CDG becomes enraged, he drops his shield and armor, and pulls out the dagger of torture. With his dagger and whip He goes on a rampage to kill those who are challenging him. Since he not longer has his armor, he becomes weaker to all type of damage by P percent, but his attack speed and strength are increased by N percent.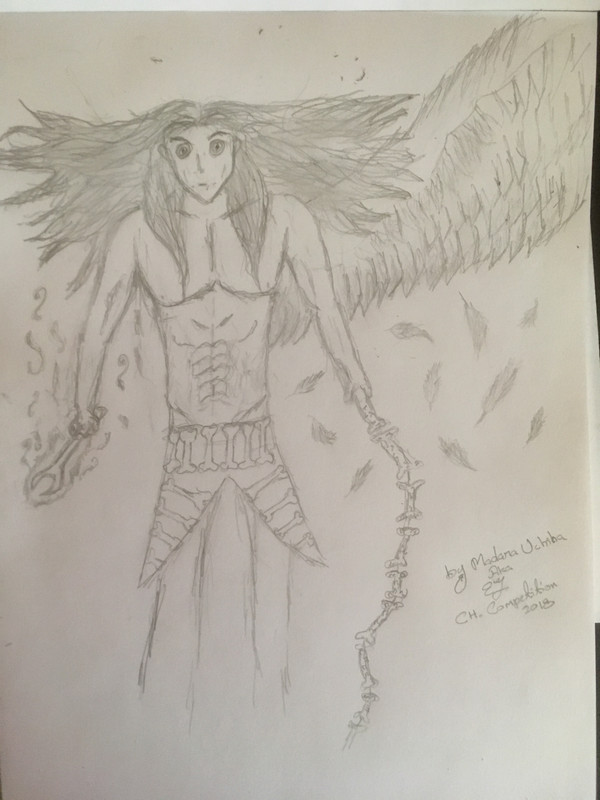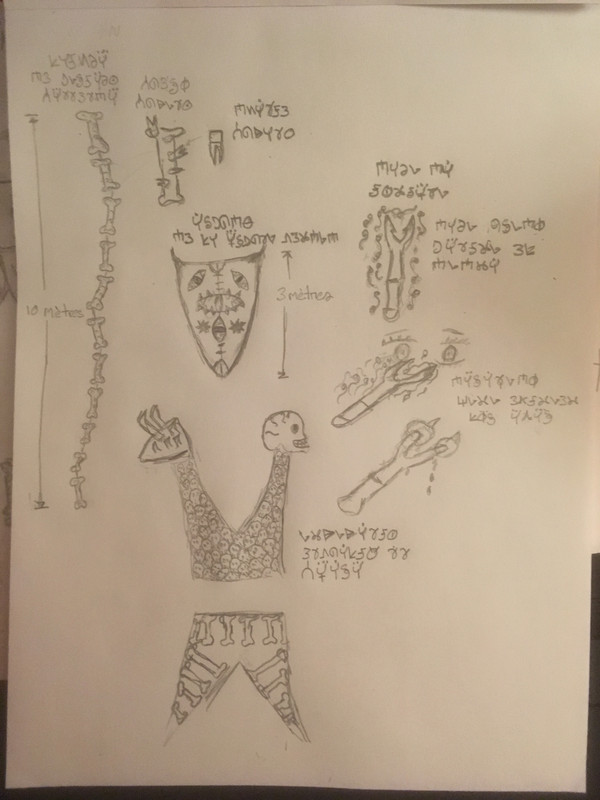 The dagger of torture posseses Murdar true hate. This is the dagger used to removed Equilax's eye by the orders of king maclir.
The armor is made of human skulls and bones. These are the bones of fools who have died by the hands of Murdar.
The shield of the dark truth is an ancient shield used by Crom. These shield has eyes that can predict the foes attack and can find the strongest foe in a group.
The whip of horrendous punishment is made of Femur bones from fools who have fallen against Murdar. The whip is embedded with human teeth